Case Study 1 : Pipe Manufacturer
Pipe Manufacturer Chooses Asprova for Scheduling Speed

Achieves Load Leveling and Major Inventory Reduction




– Kihara Manufacturing Company, Ltd. –


The Ibaraki factory of Kihara Manufacturing Company specializes in production of piping and tubing, including truck exhaust pipes, engine pipes, and hydraulic pipes for construction equipment. Production scheduling is performed twice each morning, first for products and then again for parts. Weighed down by the complexity of handling a large number of customers and product varieties and the resulting large number of order changes, they were drawn to Asprova's ability to maintain fast scheduling speed in the face of overwhelming data size. Due to the flexibility of the Asprova program, they were able to deal with the large number of customers and products while keeping customization to a minimum.
---
Problems Prior to Introduction


Mountains of paperwork due to complicated scheduling procedures

Confusion on assembly line due to contradictory instructions from different process managers

Process managers hoarding inventory to avoid missed deadlines

Reasons for Introducing Asprova


Asprova's scheduling speed

Minimal need for customization

Quality of response from Scheduling System Laboratory (present Asprova Corporation)

Benefits of Introduction


Asprova's load calculations enabled scheduling to be performed centrally every morning without exchange of paperwork.

Control of factory floor through reliable schedules eliminated the confusion and excess inventory. In particular, inventory reduced by more than 30%.

Clarity of priorities and accuracy of load calculations in Asprova's manufacturing instructions eliminated need for corrections by process managers.

Production Scheduling in State of Confusion

Up till now in the Ibaraki factory of Kihara Manufacturing Company, process managers for each customer carried out instruction-based production which depended on the exchange of considerable paperwork in the form of production plans, work charts, missing item lists, and instruction supplements. Since it was not feasible for detailed factory-wide production schedules to be drawn up centrally on a daily basis, much of the burden of scheduling was placed on the shoulders of the process managers themselves, who were often unable to set appropriate priorities to the requests for needed parts coming in simultaneously from numerous other managers. As the factory floor and production management office became increasingly swamped in paperwork, the problem was worsened by managers making unnecessarily large request for parts or hiding inventory stock for fear of missing deadlines. Although a production management system had been installed on the factory mainframe for more than 20 years, the reality of the factory's production scheduling was that it was in a state of confusion.
"For more than 10 years," explains Masami Satoh, Chief of Production Management, "we had been looking into introducing a scheduling management system, and in fact we tried several different ones, but none of them reached the stage of actual installation." The main reason, he says, was that most of the systems were unable to handle the large number of customers and product varieties. They decided on Asprova because of the high speed of its scheduling computation, and because they valued quick response by Scheduling System Laboratory (present Asprova Corporation) to all of their needs. Concerning the speed of computation, Satoh says, "We saw the demo and were amazed." Satoh says their appreciation was further increased upon finding that Asprova's standard version was able to deal with the continual thorn in their side — the huge number of product varieties — with a minimum of customization.

Figure 1: System Configuration

Data is transferred with the office mainframe twice daily in order to carry out scheduling, first for the customer-side plans, and then for the factory's internal requirements. The mainframe explodes requirements for parts, determines due dates, and outputs manufacturing instructions.
Figure 2: Gantt chart showing results of scheduling with Asprova

Figure 3: Main menu from Asprova peripheral utility, developed by Kihara Manufacturing Company in response to various needs from the customer relations department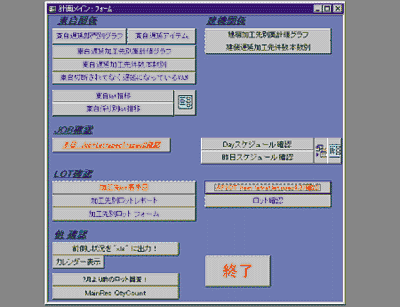 Can't Operate Without Asprova

Now scheduling is performed twice a day, first to schedule the final products, and then again to schedule the component parts based on those results. Although performing daily scheduling on a scale as large as the Ibaraki factory's means some daunting demands on the scheduler for computational speed, Asprova easily met the challenge by generating a schedule in only 10 minutes.


At the same factory, during the investigatory stages of the scheduler introduction, managers had described their hopes for the role of the scheduler in a list including such tasks as integrating customer-specific manufacturing instructions, generating reasonable instructions based on resource load planning, guaranteeing that following the schedule will finish lots on time, producing only the required items, facilitating frequent re-scheduling, and ensuring timely completion of job preparations. Asprova, they say, has fulfilled nearly 100 percent of their hopes.


Not only that, but Asprova has also allowed them to effect a drastic reduction in inventory. "Up till now," explains Satoh, "process managers were only managing to stay on top of demand by producing hundreds of pipes at a time. Now that we have scheduling under control, we've started producing smaller lots to cut down on inventory." On a price base, he says, this inventory reduction has totaled about 30 percent.


With this growing list of achievements, Asprova is rapidly becoming an indispensable element of the Ibaraki factory. As Sumio Sakamaki, Chief of Systems Development in the Production Division, says, "Asprova has become so much of part of our production management system, I don't think work in this factory could even go on without it."




Data Volume




Finished products


3,400




Total items


10,000




Resources


100




Processes


3




Scheduling period


58 days




Scheduling cycle



once/day





Lots in scheduling period


6,000




Jobs in scheduling period


15,000



Kihara Manufacturing Company, Ltd.



Main office:


6-14-9 Soto-kanda, Chiyoda-ku, Tokyo 101-0021 Japan


Ibaraki factory:



5166 Uchimoriya-cho, Mitsukaido-shi, Ibaraki-ken 303-0042 Japan




Company established:


February 1943


Factory established:



July 1954



Representative director:


President Tsuneo Kihara


Capital:

107 million yen, Employees: 270 (as of June 1998)
Annual sales: 5 billion yen (in 1997)




Since its establishment, Kihara Manufacturing Company has specialized in producing a diverse range of low-pressure to high-pressure pipes for use in motors, industrial machinery, ships, and other machinery.

Left to right:
Masami Satoh (Chief Production Management)
Sumio Sakamaki (Chief of Systems Development Production Division)
Isao Arikawa (Systems Developer Production Division)
Shigemitsu Arai (Systems Developer Production Division)
Introduces Asprova for scheduling speed

Achieves load leveling and major inventory reduction

Read More…