Asprova Advanced Planning and Scheduling (APS)
Asprova is an Advanced Planning & Scheduling (APS) system that creates production schedules at high speed for multiple items and multiple processes, fully integrating sales, manufacturing, inventory and purchase plans.
Introduction Video
Introduction of Asprova (about 14 minutes).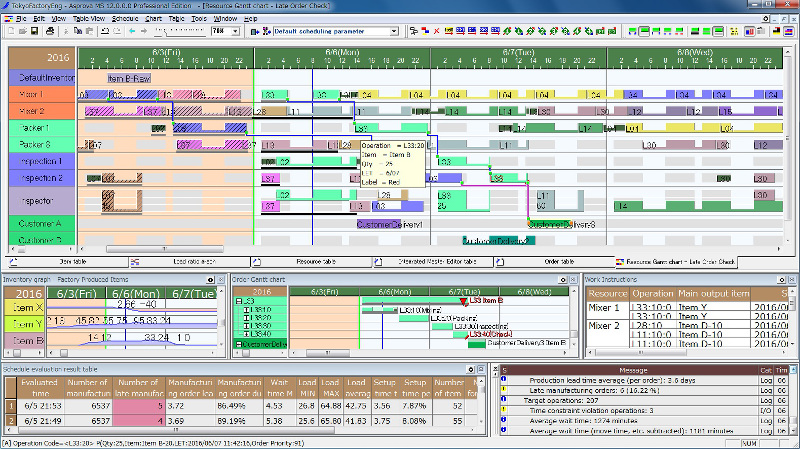 Core benefits
Asprova empowers you to achieve your business goals and increase company profit through the following core benefits:
Increased throughput
Improved customer service
For details on the relationships between these benefits, company profit, and Asprova's features, see the Virtual Cycle of Profit Increase.
Market share and install base
Asprova was originally developed in Japan, where Asprova is overwhelmingly the most widely used production scheduling system, with a market share of 52.4%. (According to Techno Systems Research Co.,Ltd Report 2011)
So many of Japan's leading manufacturers use Asprova that Asprova has come to be thought of by many as a crystallization of Japan's manufacturing know-how, hence our motto "Join the WINNERS".
Now Asprova is supported in more than eighteen countries, is available in seven languages, and is in use by more than 1000 users worldwide in a wide range of fields.
See our Customers page for details on Asprova customers and case studies by industry.
Asprova main user introduction(Japan&Oversea)
Asprova has a main user introduction results 1601 in Japan and 447 Overseas(by Jan,2015)
The graph of the rate of the Manufacturing types of the Asprova users

Awards
Asprova has received numerous awards both in Japan and internationally.
March 2013
Chinese manufacturing industry informatization excellent recommended products
March 2013
The Gold Medal at Automation Fair in Poland
May 2011
Industrial practice awards
[Japan Industrial Management Association]
Jan 2011
China business software manufacturing field Top10

Dec 2009
Chinese business software Top10 in SCM field 2009
[Chinese Business Software Award Conference]
Sep 2009
Scheduling Society Technology Awards 2009
[Scheduling Society]
Nov 2007
KURUMAE Venture Awards 2007
[Tokyo Institute of Technology]
Feb 2007
Japan Venture Awards
[presented by the Ministry of Economy,Trade and Industry of the Japanese Government]
Nov 2000
Best Manufacturing Management System/Product
[The Official CIM 2000 Awards in UK]
Apr 2000
12th Annual Small and Medium Enterprise Excellent New Technology – New Product Prize
[The Asahi Bank Foundation For Small And Medium Enterprise Promotion / The Nikkan Kogyo Newspaper]
Oct 1999
Software Product of the Year 1999
[Software Information Council]
Jun 1996
4th Annual Small and Medium Enterprise New Frontier Prize
[Japan Industrial Newspaper]