Case Study 7 : Dye Manufacturer
Dye Manufacturer Chooses Asprova For High Speed Scheduling Process and User-friendly GUI Environment.
Scheduling Done Even Without Schedule Manager.




-Nara Lace, Co. Ltd –


Nara Lace, Co. Ltd is a leading manufacturer of dye work, primarily in dyeing curtain lace. Prior to implementation of Asprova, the company had to rely on a schedule manager who knows the manufacturing process top-to-bottom. The manufacturing schedule was then drafted manually. During the day, schedule manager would handle inquiries and changes to the schedule, and then draft the schedule after dark. Furthermore, there would be cases where even this manager could not draft an efficient schedule. After introducing Asprova, the workload of schedule drafting and bottleneck due to rescheduling process have been reduced remarkably. Schedule accuracy has improved marvelously. Previously, everyone had to rely heavily upon the schedule manager for creating and amending the schedule. Now with the introduction of Asprova, problems in scheduling can be dealt with even by inexperienced personnel!
---
Problems Prior to Introduction


Heavy workload for schedule manager from attending to changes and inquiries during daytime, and drafting the appropriate schedule after dark.


Inability to improve overall efficiency while still meeting customer deadliness, due to heavy workload.


Lack of visibility of schedule data in the factory, resulting in heavy dependence on schedule manager for order processing.


Reasons for Introducing Asprova


Asprova's scheduling speed


Asprova's user-friendly GUI


Asprova's cost-effectiveness in terms of version upgrade


Benefits of Introduction


Reduced scheduling time to 30-45 minutes.


Enable easy modification of the schedule on Asprova's Gantt Chart, improving efficiency and reducing the need for handwritten modifications to printed work instructions.


Enable visual identification equipment loads and overall job assignment, making it easy and efficient to handle customer inquiries.


Bottleneck in dyeing process being reduced thanks to the accuracy in scheduling.Hence, wastage at production front was minimized.


Enable drafting of a basic schedule even by personnel unfamiliar with the constraints of each process.


Scheduling Relied on Experienced Schedule Manager

Up till the implementation of Asprova, Nara Lace, Co. Ltd. had been drafting schedules of their dyeing process based on offline data of customer orders and inventory. The schedule was drafted manually on a daily basis. In order to modify the existing schedule to add a new customer order, the customer order had to be keyed-in before dark. Schedule manager would then have to work overtime at night or report to duty earlier on the following day. He/she had to spend 3-4 hours on drafting manu schedule. Furthermore he/she had to handle all modifications made to the schedule due to customer requests. This however, inevitably placed a heavy burden on the schedule manager.


Drafting and modification of the schedule had to be made by personnel familiar with the process, equipment and item-related constraints. In other words, only the schedule manager could handle the job flawlessly. However, due to the complexity of the process, and the overwhelming workload, there was simply no time left for the schedule manager to work on drafting a more efficient plan, since meeting customer deadlines was then the top priority. Although the manually drafted schedule was input into the mainframe computer, due to the difficulties in making modifications to data in mainframe, rescheduling was done by writing directly on the work instructions, bypassing the mainframe computer entirely. Thus, inquiry into customer deadlines could not be resolved by referring the mainframe's database. As a result, the schedule manager had to bear the additional responsibility of handling customer inquiries.


Due to an increase in production and customer orders, "We realized that manual rescheduling is no longer possible," said Yoshihiro Hamada, Vice-Director of Management Department. Nara Lace, Co. Ltd. underwent a major restructuring plan to systemize production scheduling and peripheral systems, with the objective of reducing the scheduling workload, and enabling a realistic schedule to be drafted by any personnel.


Initially, Nara Lace, Co. Ltd. was to develop their own production scheduling system in collaboration with a software company. The peripheral system restructuring in fact went on smoothly. However the production scheduling system did not materialized as initially planned. Right at the moment of dilemma, Asprova was recommended to Nara Lace, Co. Ltd. by KURABO Industries Inc., an authorized distributor of Asprova, which had previously implemented a shop floor system for them.

Figure 1: System Configuration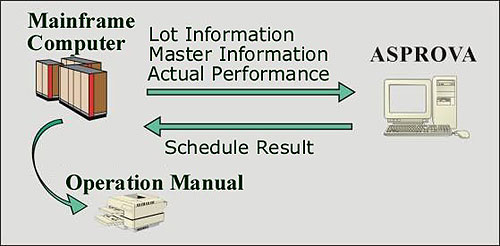 Lot, out-coming result and master database are transferred from offline computer. The scheduled result is then returned to the offline computer, where operation manual is being processed and output.
Figure 2: Gantt Chart showing the result layout

Schedule regarding forwarded schedule and bottleneck resources is executed continuously using "temporarily halting" function. Conditions for each equipment is being setup in field specification. Since specification replacement is also being setup, both schedule layout availability and replacement are taken into consideration during the automatic scheduling process.
Figure 3: Master maintenance function using MS-ACCESS, where part of the master database is being setup from here.

The adjusted schedule is sent back to Asprova through COM.
Figure 4: Dyeing pot capable of multiple simultaneous input is grouped into the same lot

The connection between the state before and after the process is tied up using the inter-lot time restriction function. Multiple input from pre-process pot being combined and branched off into different states in post-process.
High Processing Speed, User-friendly GUI, Cost-effective – the key of implementing Asprova

Through the demonstration, Nara Lace, Co. Ltd. was impressed by the high processing speed and the simplicity of making modification to existing schedule on Gantt chart. Especially in terms of processing speed, the original production scheduling system took 2-3 hours to process a single schedule on test run, whereas Asprova could achieved the same result within seconds. Although the original system had an advantage with built-in specification, Asprova proved to be an upper-hand in terms of speed,"concluded Nobutaka Kawai of General Affairs Department."There are still rooms for improvement in function, but compared to customizing the original system, upgrading the Asprova on annual basis seems to be more cost-effective,"added Hamada. Taking future development into consideration, Nara Lace, Co. Ltd. decided to abandon the plan of developing the original production scheduling system, and implemented Asprova instead.


Master database preparation had been a painstaking process during the initial state of implementing Asprova. Although the implementation process based on offline database progressed well, we had a hard time, taking facilities and item-related specifications into consideration,"according to Hamada. As soon as the master database preparation work completes, interface program connecting the peripheral system was then developed. It took several months of test run before the actual operation was finally implemented. To fully transfer the test run system into the actual system, the existing state of the production system had been taken account off. Although some minor adjustment to the master database and parameter had to be made, the implementation eventually turned out a total success.

Scheduling Can Be Done Without Schedule Manager

After implementing Asprova, thanks to the high processing speed and reduction of hassle in data input, schedule for manufacturing process can be drafted in 30-45 minutes. "The workload of schedule drafting has been halved to what we used to in the past,"said Kenji Kinugaki, Chief of Management department. Now, it is possible to evaluate the on-site progress while scheduling and lengthening the deadline for order input.


With the simplicity offered by Asprova, amendment to schedule can be made easily by using Gantt chart, thus reducing unnecessary workload. Besides eliminating the hassle of writing instructions into operation manual manually, the anticipated result and equipment load can be double-checked visually using Gantt chart. In this way, inquiry concerning customer deadlines can be handled efficiently.


Previously these could not have been possibly done without the schedule manager. With Asprova, since the necessary process specifications have been setup as master database, even inexperienced personnel could handle scheduling with ease.


Not only did Asprova improve the efficiency of scheduling, the advantage of its implementation also manifested in the content of the schedule plan. Asprova is capable of arranging the filling ratio of dyeing pot used in the process effectively. Followed by the improvement of master database accuracy, and with the once bottleneck dyeing process being resolved, productivity had improved marvelously.


Having been blessed by the implementation of Asprova, with its effectiveness clearly displayed in reducing rescheduling workload and improving accuracy. Once the master database is sorted out, the schedule accuracy can be improved," reported Kinugasa. Apart from master database maintenance, Nara Lace, Co. Ltd. is exploring new ways of applying Asprova in its management and peripheral system function, so as to yield greater benefit from Asprova.




Data Volume




Finished products


42,000




Total items


56,000




Resources


41




Resource capability


210,000




Processes


7




Scheduling period


3 weeks




Scheduling cycle



once/day





Lots in scheduling period


500




Jobs in scheduling period


2,500




Single rescheduling time


5 seconds



Nara Lace, Co. Ltd.
| | |
| --- | --- |
| Office: | Nishi Kyujyou Cho 5-4-5Daifuku, Nara-shi, Nara-ken 630-8453, Japan |
| Year of Establishment: | 1942 |
| Representative Chairman: | Takao Kamiyama |
| President-Director: | Nobukazu Takahashi |
| Employees: | 60 |
| Capital: | 20 million yen |
Since its establishment, Nara Lace, Co. Ltd. has been a major dye manufacturer, primarily in curtain lace dyeing and manufacturing. The company focuses on R&D, providing technical support to curtain production site. Nara Lace, Co. Ltd. has been developing award winning new technologies, and obtained 4 patents in fireproof material manufacturing process and synthetic fiber dyeing.

Left to right:
Yoshihiro Hamada, Vice-Director of Management Department

Kenji Kinugasa, Head of Management Department

Nobutaka Kawai, Management Department

Chooses Asprova For High Speed Scheduling Process and User-friendly GUI Environment

Scheduling Done Even Without Schedule Manager

Read More…