Asprova MS Light
Asprova MS Light is not a mere low price edition: it fulfills the scheduling requirements of over 1200 factories. Thanks to easy customizability through option packages, there are no limits what you can achieve with MS Light edition. Asprova MS Light is the result of several years of research on system extendability with our customers implementing Asprova production scheduling system.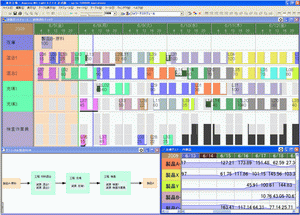 The merits of Asprova MS Light
Production scheduling system with the minimum amount of master data
Reduced cost with a shorter installation schedule
Additional features available through options
Programming interface and possibility to maintenance service
Easy connectivity with external systems and databases
Multilingual support
Basic features
Asprova MS Light enables resource load leveling, backward and forward scheduling, and forward & backward composite scheduling. Visual management and possibility to connect to external databases are provided as standard features. By adding features through option packages, the functionality of the light edition can be extended up to that of Asprova MS.
Minimize late orders and perform infinite capacity scheduling filtering orders and processes while taking resource priorities and load leveling into account.
Option features
Auto-replenishment orders
To prevent the inventory to fall below the safety stock, create replenishment orders automatically specifying lot sizes and time period grouping.
Command editor
Edit the contents of the commands executed during rescheduling. By combining various scheduling parameters, organize and schedule operations at high-speed. The option "Scheduling parameter" is necessary to use this option.
Branching process
Specify processes that branch.
Sub resources
Perform scheduling using workers and jigs.
Operation split
Specify split number, split ratio, and lot size to split operations.
Asprova MS Light introductory material can be found here.
* If you have installed Asprova version 6.2.1 or later, it is possible to
change the module type to Asprova MS Light within the program.
For further details refer to the help page.

Asprova MS Light